The PressureWorx fuel module control system has everything needed to provide a stand-alone, OE-type returnless fuel system.
When used with the GM CTS-V2 fuel module, the system can provide a constant pressure or any base pressure with a 1:1 manifold referenced (MAP sensor based) fuel pressure. It will act just like a mechanical fuel pressure regulator would with the ECM tuned in the same manner. The fuel injector does not know if the fuel supplied is pumped by a return or returnless system.
If manifold referenced fuel pressure is to be used, the standard PressureWorx option is tuned for the GM LSA 3bar 12592525 sensor. Other sensor tunes are available at no charge. The MAP sensor tune in the PressureWorx controller must match the MAP sensor so that the proper 1:1 pressure rate change can occur.
This stand-alone kit, built for use with the Cadillac CTS-V2 fuel module with stock OEM, DeatschWerks DW300C, or AEM direct fit pumps, contains everything needed to drive the fuel system electrically.
Suggestion: If your car is already running with a constant pressure tune and all you need is a larger volume fuel system, changing to MAP referenced fuel pressure is usually not needed or worth the extra expense to retune the fuel maps in the ECM.
Base fuel pressures at idle are typically between 42-60psi, but the VaporWorx controller has much greater range if needed.
For a constant fuel pressure system, like that for all GM naturally aspirated LS and LT series engines, a 60psi pressure is typically used. For supercharged applications either a constant or MAP referenced fuel pressure can be used depending on how the ECM is tuned.
VaporWorx recommends using a MAP referenced fuel pressure on large fuel injected systems to allow injector duty cycles to be increased at idle/cruise, hence allowing greater tuning capability. MAP referenced fuel pressure also reduces the at idle power requirements by 2/3 vs traditional return type fuel systems.
Fuel pressure for the CTS-V2 fuel module should be limited to 65psi maximum when using the OEM internal safety valve. Above this pressure the OEM internal safety valve will start to open, hence limiting further pressure increase. The DW300C pumps have a higher pressure valve that can allow a pressure increase to 88psi (please contact VaporWorx for this part.)
It is strongly suggested to NOT use an inline filter with with OEM fuel modules except Gen3 Coyote GT500. Final filtering is built in. Some aftermarket fuel filters have a built-in check valve which will cause a heat-soak related overpressure condition that will lock up port type fuel injectors.
The PressureWorx Fuel Module Controller system includes these standard features:
Everything needed electrically to drive the CTS-V2 fuel module.  No relays, Hobb's switches, or filters needed.
Unmatched low fuel level capability.
Up to

2/3

reduction in power to the fuel module during idle and cruise vs traditional systems.
May be used with OEM, DW300C, AEM, or other CTS-V2 specific direct fit pumps.
OEM G8 fuel level sensor can be re-used on ACDELCO M10235 CTS-V2 module.

40A

minimum continuous power rating in a compact controller package. Total size

4.5"L

x

3.5"W

x

2"H

.
Over-temperature shutdown with automatic reset that will operate indefinitely without damage.
Short circuit protection that will operate indefinitely without damage.
OEM Delphi/Aptiv connections for terminals, seals, and connector bodies where appropriate.
All cross-linked polyethylene wiring.

UL94

rated components used throughout.
Integrates into the OE ECM to allow all safety systems to remain functional.

10-22v

operating capacity. Can be used with voltage boosters. The preferred booster is the JMS FuelMax. Lower than

10v

applied to the turn on circuit will cause controller shutdown to protect from an AFR lean condition.
Can be used in constant or manifold referenced fuel pressure modes. Manifold referenced suggested to further reduce electrical demand and for vehicles with large,

100#/hr+

, injectors.
The ECM programming will need to be set as it would be for a traditional full or deadhead return fuel system. Disconnecting the OEM FSCM (if applicable) and routing its trigger/turn on wire to the VaporWorx controller to turn on/off has shown to work well.
Pontiac G8 owners: Please make a note in the "Comments" section of the checkout process that you have G8. VaporWorx will include a few small parts to complete your installation.
The basic wiring layout and connections are shown in the following diagram: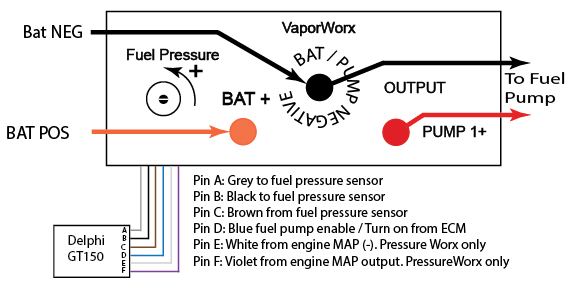 SKU: PWDW300C3B
NEW!
Find your perfect PWM Controller Kit
It's easier than ever to be sure you're getting the right PWM Controller Kit for your build! Click the button below to try out our new PWM Controller Kit Selection Tool and find the perfect kit, specifically compatible with your application, based on the options you select.