Have you been looking for a high-performance fuel system for your 1988-95 OBS truck? Need to keep all of the OEM emissions attachment points in place and functional? How about a system that can provide 750hp on E85 yet be quiet, reliable, and use well known TI Automotive pumps? VaporWorx has all that and more.
Based on the popular ReturnX PWM fuel pump control system, VaporWorx has added the small parts needed to convert the inexpensive Spectra GM23B1FA ($206 at Rockauto at the time of this writing) into anything from a simple cruiser all the way to a 800hp+ beast.
Want to run the big boy F90000285 525lph Walbro pump but are worried about excessive heat generation? The ReturnX delivers a 58% reduction in idle/cruise power at 3bar. That's what keeps fuel temperatures down. See below for more details.
Part of the system includes a Fueled by AI electrical bulkhead. This bulkhead is by far the most well thought out and executed bulkhead available for easy installation. It can easily accommodate the power needs of the most powerful fuel pumps, and can be installed with a step drill and a file.
Just select your own pump, modify either your own or a new Spectra tank (others should work in a similar manner), add the PWM kit, a filter and pressure regulator of your choice, and that's it. All of the OEM fuel and emissions attachment points remain in place. VaporWorx may have some new or lightly used pumps and pressure regulators available. If interested, please contact VaporWorx.

The ReturnX control systems have everything needed to provide a stand alone fuel pump speed control system.
Key Features:
Works with all brushed type fuel pumps
Typical power reduction to the pump(s) of

45-75%

Most controllers can use either MAP or TPS sensors for control
Single and dual pump controller in a variety of MAP configurations available
Carburetor and EFI capability.
High-horsepower pumping systems can create excessive heat that can lead to vapor lock. Vapor lock, a condition where the fuel somewhere in the system boils, causes fuel delivery to effectively stop. It can happen anywhere from the pump inlet all the way to the fuel rails or carburetor bowl. With pumps being about 1/3 efficient, it is understandable that all of the OEM manufacturers are using a form of speed control to slow down the pump(s) during low fuel demand conditions.
Combine high power pumps and engine heat that is returned to the fuel tank on a return type system, and the fuel tank becomes a large thermal battery. The hotter the fuel becomes, the more susceptible it becomes to vapor lock. It is very common on warm days that the fuel tank becomes so hot that it becomes uncomfortable to keep a hand on it.
Large pumps like the TI Automotive 450 and 525lph pumps can take 22+ amps to drive at full power. The 450lph pump, commonly referred to as the Hellcat pump, and the 525lph, or the Demon pump, are controlled by Mopar using Pulse Width Modulation. PWM is simply turning the pump on and off thousands of times per second. The longer the electrical pulse is on, the faster the pump spins. However, there must be some kind of input/feedback to tell the electronics how to change the pump speed. Usually engine RPM, manifold absolute pressure (MAP), or throttle position sensor (TPS) feedback is used for return type fuel system speed control.
Imagine the engine in your car running at wide open throttle all the time. Stuck in traffic with the engine going 6500rpm and roaring. Only a small fraction of the engine power is actually needed, hence, the need for a throttle. That is what PWM is for fuel pumps, a power throttling mechanism.
Carburetors:
For carbureted applications where no electronics such as a MAP sensor or TPS sensor are used, VaporWorx offers the stand-alone ReturnX PWM system that uses a remotely mounted MAP sensor to provide feedback.  This system will provide an approximate 75% reduction in power to a TI 450lph fuel pump during idle and cruise, much lower noise, and increased pump life. Simply attach the MAP sensor hose to a manifold vacuum source, make at-idle controller adjustments, and the VaporWorx controller will do the rest.
If the engine makes between 0 – 10inhg ATM / 100 – 65KPA ABS then the MAP sensor input will not function correctly. There is insufficient signal range to provide a full speed range for the ReturnX controller. In these cases, please contact VaporWorx.
A return/bypass type carburetor fuel pressure regulator is required for this application. A typical regulator will be similar to Holley P/N 12-803BP has shown to work well.
EFI:
For EFI applications, VaporWorx offers a variety of ReturnX controllers that use MAP or TPS signals to control the fuel pump speed. This system will provide an approximate 45 – 60% reduction in power (depending on idle fuel pressure) to a TI 450lph fuel pump during idle and cruise, much lower noise, and increased pump life. For most any single pump the idle/cruise power reduction is 45-50%.
Two versions of the higher pressure EFI controllers are offered. One uses the MAP sensor used by the EFI system, while the other uses a VaporWorx provided MAP sensor.
If the EFI MAP sensor is used, the sensor range must match the VaporWorx controller setting. In other words, if an LS3 1bar MAP sensor is used in the car, the VaporWorx controller must also be the 1bar controller.
If a VaporWorx provided stand-alone MAP sensor is used then either the Naturally Aspirated or Supercharged version should be chosen. If the controller is mis-matched to the MAP sensor an incorrect pump speed ramp rate will occur and possibly lead to a lean condition. Naturally aspirated controllers can be changed to supercharged with the addition of a VaporWorx MAP sensor and controller retune.
If the engine makes between 0 – 10inhg ATM / 100 – 65KPA ABS then the MAP sensor input will not function correctly. There is insufficient signal range to provide a full speed range for the ReturnX controller. The TPS sensor input may be a good option instead.
The EFI ReturnX controllers also include an option for using the throttle position sensor for controller feedback. Using a standard 0 – 5v TPS sensor the ReturnX controller will vary the speed of the pump(s) accordingly. However, this option will not function when the stand alone VaporWorx supplied MAP sensor is used. If it is decided to move from the stand-alone MAP sensor to the TPS input the controller will need to be returned to VaporWorx for a simple internal modification.
Various return type pressure regulators can be used with the ReturnX systems. Following are some guidelines:
Adjustable deadhead or full return regulators:
Any standard return/bypass type regulator can be used in either constant/static or manifold referenced fuel pressure modes. It is recommended that for supercharged applications that a manifold referenced fuel pressure be used with the fuel pressure set to approximately 43psi at idle. For constant pressure systems it is best to try and keep the pressure in the 43-60psi range. The lower, the better, as long as the fuel injector has sufficient capacity. The lower the fuel pressure, the easier the pump and injectors have to work. The inexpensive Holley 12-886 has shown to work well using up to 2x 525lph pumps.
Corvette C5 Fuel Filter Regulators:
The ReturnX controller has shown to work very well with these regulators. However, beware of inexpensive imitations. The OE GM or Wix 33737 are the best due to their higher flowrate capacity and proven quality levels. The challenge when using these parts is that larger pumps, typically anything over about 340lph, can cause the fuel pressure to be high and erratic. They are not designed to deal with larger pumps at idle/cruise where the bulk of the fuel is returned to the tank. When the ReturnX PWM system is used, the return fuel is greatly reduced, hence the C5 works well. Since there is no pressure adjustment, setting the controller only requires a simple speed control adjustment.  Single 525lph pumps have shown to work well with the OE/Wix regulator and ReturnX controller.
ReturnX controllers are also available in single and dual pump versions. The dual pump controller can be used on a single pump, so if your future may include the need for a second pump it may be best to use the dual pump controller and save on the installation time.
 The ReturnX Controller includes these standard features:
Everything needed electrically to drive the fuel pump(s). No relays needed.
A significant reduction in the average fuel pump power requirement resulting in lower fuel temperatures and longer pump life.
40-80A minimum continuous power rating in a compact controller package. Total size 4"L x 2.1"W x 1-5/8"H.
Over-temperature shutdown with automatic reset that will operate indefinitely without damage.
Short circuit output protection that will operate indefinitely without damage.
OEM Delphi/Aptiv connections for terminals, seals, and connector bodies.
All cross-linked polyethylene wiring.
UL94 rated components used throughout.
Integrates into the OE ECM to allow all safety systems to remain functional.
10-22v operating capacity. Can be used with voltage boosters. The preferred booster is the JMS FuelMax. Lower than 10v applied to the turn on circuit will cause controller shutdown to protect from an AFR lean condition.
The basic wiring layout and connections are shown in the following diagram: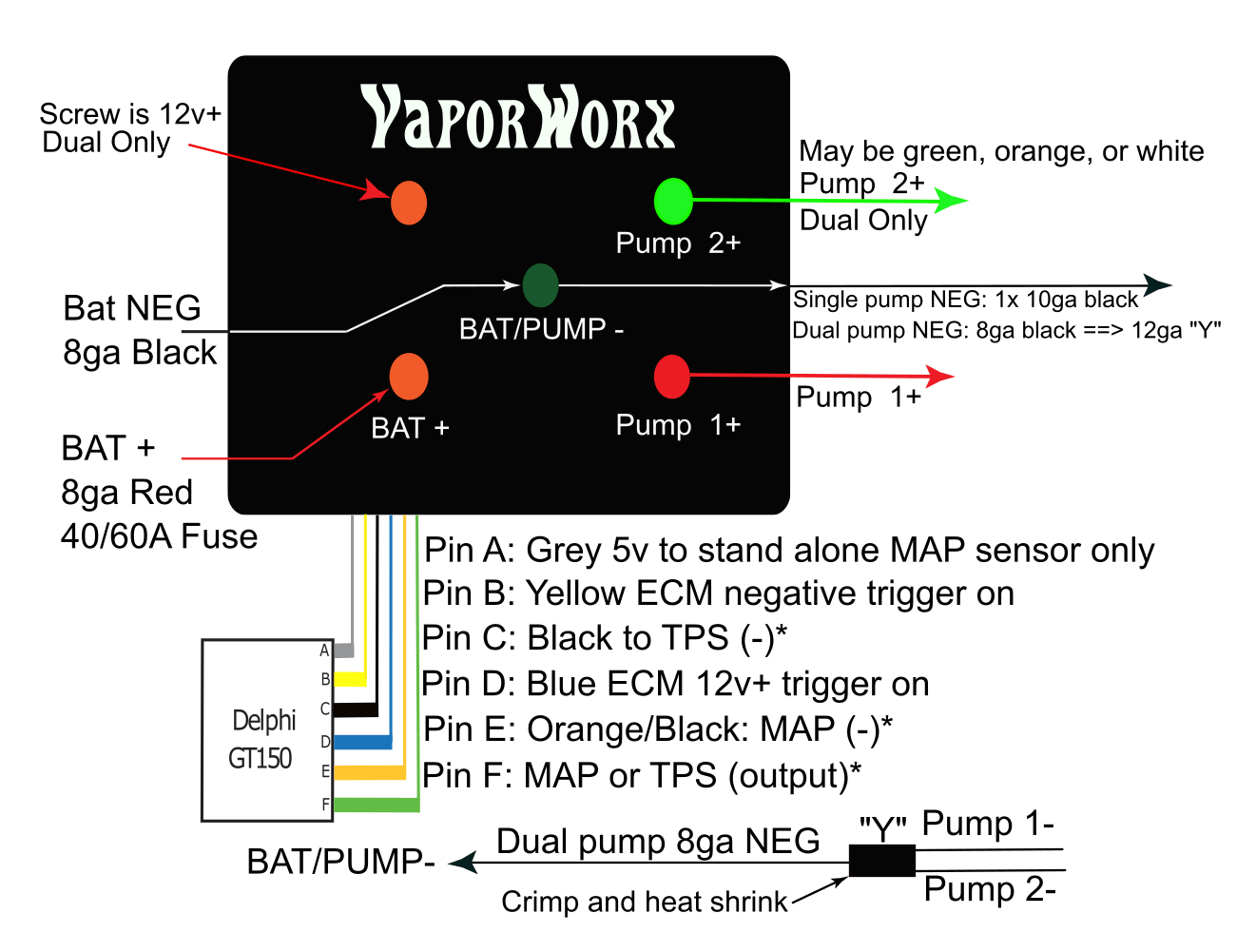 SKU: PWRX-OBS
NEW!
Find your perfect PWM Controller Kit
It's easier than ever to be sure you're getting the right PWM Controller Kit for your build! Click the button below to try out our new PWM Controller Kit Selection Tool and find the perfect kit, specifically compatible with your application, based on the options you select.