Get CTS-V2 pumping performance that is a drop-in for your Gen5 Camaro, SS, and any other platform that can use the Gen5 ZL1 fuel pump module like the ACDELCO MU2101.
Using all OEM components, this fuel pump module will give nearly identical performance to the CTS-V2 part except above 65psi, where the Super ZL1 excels. No weird or odd parts here, just the good stuff from GM, using a new pump made by the OEM that supplies to GM.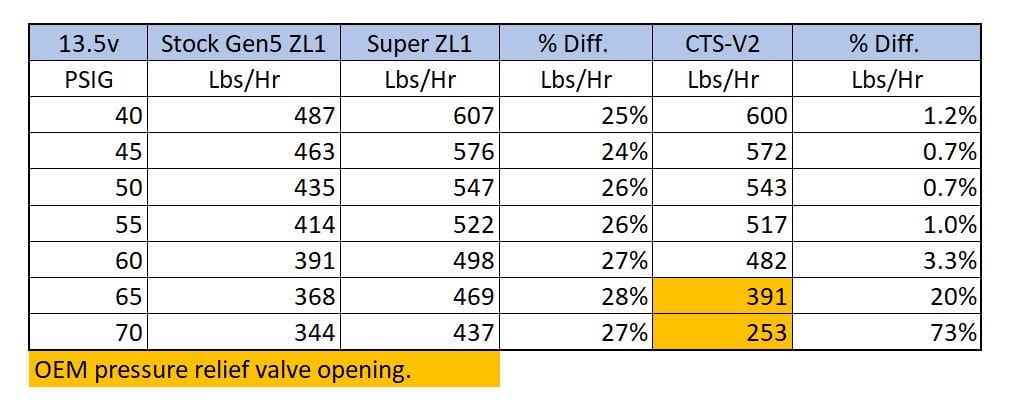 The Super ZL1 will also perform well at elevated voltage levels. When combined with the JMS FuelMax and the VaporWorx SmartRamp controller, a quite powerful pumping system can be used while still providing OEM reliability and low liquid level handling. The data in the following table is actual flowrate data. A 10% safety factor should be considered.

The Super ZL1 is drop-in compatible with GM FSCM/returnless systems as well as the VaporWorx stand-alone PWM returnless controller. No modifications needed. System voltage for OE FSCM vehicles should be limited to 16.5v to avoid MIL codes. See the VaporWorx SmartRamp controller for more information.
NOTE: The Brake Specific Fuel Consumption (BSFC) increases dramatically once power levels for "Mild Supercharged" go over 800-850 flywheel horsepower.
The Super ZL1 also includes a new fuel level sensor. 40F-250E ohms.
SKU: GM5SUPZL1