Available again!
This corner pickup kit can provide the ultimate in low fuel level performance for Gen5 Camaro, CTS-V2, and C7 fuel modules. Will also work with other fuel modules that have a suction port/in-tank crossover line connection usually located on the lower reservoir.
Suction pump connection needed. Not for use on stand-alone pumps.
This kit includes:
Two Genuine Walbro pickups (vented)
In-tank rated flexi-hoses
Stainless full-contact Odiker clamps
45* 3/8″ x 5/16″ quick connector fitting
"Y", "T", and in-line connector fittings
Note: For CTS-V2 only module applications, to adapt to the odd-sized in-tank connection, see our CTS-V2 to 3/8″ in-tank crossover adapter.
Below is a typical hose and corner pickup layout: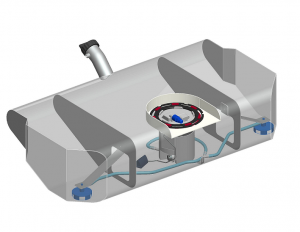 SKU: CPTKIT